Tornado


Tornado Development was started by Trajan Grobler (TG) in 1991 originally as a Fitment and

Tuning Centre for Yoshimura Equipment that was imported by TD Agencies. TD Agencies

(Trajan Grobler and Dirk Du Plooy) today is the oldest Yoshimura Distributors in the world.

Trajan Grobler originally traded under the name TG Services as a tribute to his mentor

Trevor van Rooyen (TVR Services) where Trajan learnt Dyno tuning, engine building,

gas flowing and other skills.


The business soon developed into building its own motorcycle, a replica of the Yoshimura

Tornado of the late 1980's. We build and sold around 14 Tornado bikes which were based

around the first oil cooled Suzuki GSXR 750 and 1100. Trajan scoured the world for parts,

a Seat from Europe, fairing from Japan, tank from the UK, - these parts were then made

locally. We also build the first 1400 Hyabusa's and 1600 Hyabusa's in South Africa,

12 x 1400's and 3 x 1600 were build. We also build 3 Yoshi X1 Hyabusa's.

Customizing motorcycles Customize customise customize

Click on the above to view bigger or find

more Tornado Bike SA Adverts below
WELCOME TO TORNADO DEVELOPMENTS
Click here
to view our latest Bike SA Advertisement

or

C
omplete our online request for a quote below
Tornado

Tornado Development was started by Trajan Grobler (TG) in 1991 originally as a Fitment and
Tuning Centre for Yoshimura Equipment that was imported by TD Agencies. TD Agencies
(Trajan Grobler and Dirk Du Plooy) today is the oldest Yoshimura Distributors in the world.
Trajan Grobler originally traded under the name TG Services as a tribute to his mentor
Trevor van Rooyen (TVR Services) where Trajan learnt Dyno tuning, engine building,
gas flowing and other skills.

The business soon developed into building its own motorcycle, a replica of the Yoshimura
Tornado of the late 1980's. We build and sold around 14 Tornado bikes which were based
around the first oil cooled Suzuki GSXR 750 and 1100. Trajan scoured the world for parts,
a Seat from Europe, fairing from Japan, tank from the UK, - these parts were then made
locally. We also build the first 1400 Hyabusa's and 1600 Hyabusa's in South Africa,
12 x 1400's and 3 x 1600 were build. We also build 3 Yoshi X1 Hyabusa's.
Customizing motorcycles Customize customise customize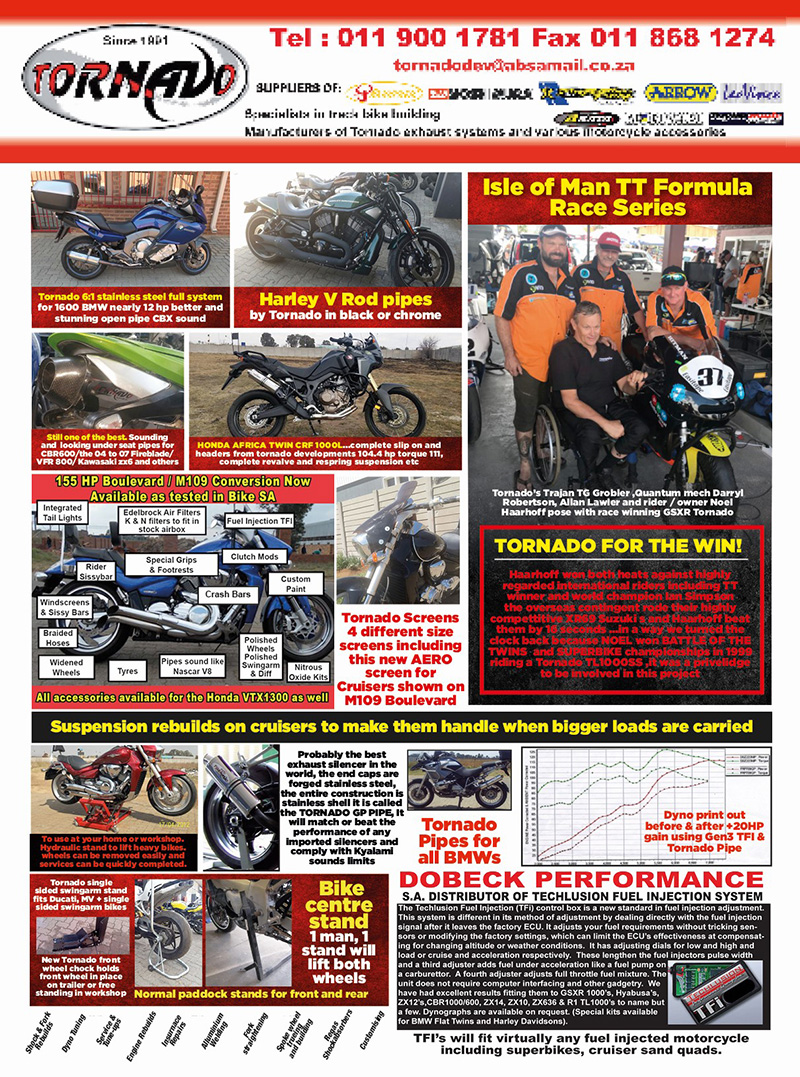 Click on the above to view bigger or find
more Tornado Bike SA Adverts below
WELCOME TO TORNADO DEVELOPMENTS
Click here
to view our latest Bike SA Advertisement or Complete our online request for a quote below